Research
01 Competitive Analysis
Overview
For our competitive analysis we examined four different Recipe websites. All of them are relatively active and well-known and all attempt to address various user needs in a number of different ways. The sites that we examined were: AllRecipes.com, Epicurious.com, LeftOverChef.com, and GroupRecipes.com. Among these websites there were many interest aspects; some of which run through all of them while others were special to only one instance. Some of the areas that we chose to examine were: the different methods of recipe management, different ways of forming an online community, and alternate methods of exploring recipes available to make.



AllRecipes.com is likely the most well-known and widely used of the sites we explored in our analysis. From the home page it is clear that they are fond of using pictures to display the recipes. When you first arrive to the site you are greeted with a "recipe of the day" which presents the user with a nice picture, the title of the recipe, the submitter and a rating accumulated from reviews.
One interesting feature this site has is a "favorite photos" on the home screen which indicates that people who enjoy photographing food could find a community here.
It also is very topical including things like pie recipes for Pi Day and Corned Beef recipes for St. Patrick's Day.
Registration is free and allows you to start and maintain your own recipe box. It also has an area for fun and games, including links to blogs and an iPhone application.
Search

You can search by ingredients by including both what you want and what you don't want. You can narrow your results with a keyword as well as a "Search In" option which has a drop down to select from various resources in the AllRecipes.com database. Examples of this include BettyCrocker, Bob Evans, or BBQ Grill. The categorization here is a little difficult to get through.

Recipe Manager
The recipe manager has the name of the recipe, a thumbnail, status(e.g. shared), your rating, the overall rating, date added and notes. One unusual thing is that it doesn't note what kind of dish it is. For instance it doesn't note that rice treats are a dessert.
Community
In the AllRecipe.com world users can make custom versions of a recipe if they buy a membership, those versions show up under a tab "Custom Versions". There is not feature for social recommendations. There is a share/eMail button that allows you to share with friends on facebook. Supporting members can write their own blog and share a web address.


Epicurious.com is also another widely visited site for recipes on the web. It is known for being a little more upscale or intended for the gourmet cook. Similar to AllRecipes, Epicurious allows users to create his/her own profile, share recipes, and organize recipes in a personal recipe box.
Cooks Tools
Being geared towards the enabling the chef to be able to prepare the meal, epicurious provides the user many tools to make things easier including a Food Dictionary, a shopping list, technique videos, wine pairings and conversion charts for ingredient amounts. They also have a supplementary iPhone application that integrates some of these things allowing the user to find a recipe, create a shopping list, and then see the steps for preparation.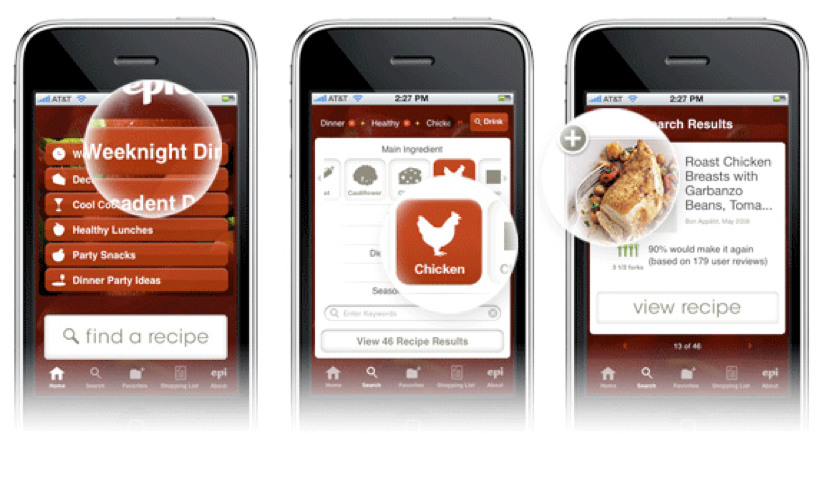 Community
A user can view member profiles, and recipe boxes and even become a "fan" of fellow members. There are forums and an "epi chat" feature. You can join member groups like Baking, Budget-Friendly, Cooking for Kids, Healthy Eating, Quick & Easy Cooking, and Vegetarian Cooking.
Recipe Manager
The manager really just includes information like who made it, the rating is and the normal ingredients/steps info. They are categorized into groups like "Quick and Easy" or "Chocolate and Cookies" and they even include dietary considerations. But there is no prediction on how long it might to make whatever you are making and there is not cost information. There is however an "add your own note" feature. They have room for a "more like this" list, but that's only there if recommendations are made, which is not always done.


GroupRecipes.com is a beta site that is not as well known as AllRecipes or Epicurious, but it does have a rather active community for a beta site. It is very intent on using hte social aspect to help people share recipes and "to harness the tastebuds of the masses to create a really useful resource for food lovers".
Community
The model that GroupRecipe seems to be following is that of a social networking site like Facebook.com. Users, or "foodies" as they are called, are encouraged to fill out profiles and even take a short questionnaire consisting largely of ranking ingredients and types of cuisine on which future recommendations will be based.



When looking at foodies they are generally listed in terms of how active they are, but they also include information such as compatibility which is visualized by the purple bar below the picture. Going to a person's page they include information such as year joined, location, expertise level, number of friends on GroupRecipe, average rating of their own recipes, current taste interests, a tagline, and a short About me. They can also upload pictures of food or of anything else they want.
Recipe Search
You can search foods by keyword, ingredient, or by flavor(e.g. "spicy"). You can also browse using a fairly comprehensive site of criteria including "Main Ingredient, Course, Cuisine, and Cook Method", each of which is it's own drop-down menu.



Also a very interest feature is that it will allow you to just "stumble" on a recipe by clicking the stumble button and generating a random recipe.
Recipe Manager
When on a recipe's page you can print it, e-mail it, forward to a friend on the site, send recipe to a cell phone, add a personal, save the recipe, subscribe to the user that the submitted hte recipe, flag as interesting or unique, or add to a comparison queue.
If you compare recipes it just puts side-by-side the ingredients, directions, and comments of a given recipe. On your personal recipe manager you can create folders, sort by category or subcategory, see your notes and get access to any recipes added.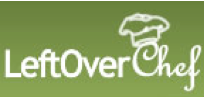 LeftOverChef is another more obscure recipe site that is focused on a user group were interested in which is those chefs who are trying to make the most of what they have, be that ingredients, money, or cooking tools. Counter to the three preceding sites LeftOverChef does not have a community section except that recipes can be uploaded, rated, and e-mailed.
Recipe Search
LeftOverChef has a "Recipe Finder" that allows you to search by pairing a main ingredient, such as beef or chicken, with other ingredients like American Cheese or Apples. You can also browse by categories including cultural origin or by course.
Other Features
One unique feature LeftOverChef provides is a Coupon section which has free coupons to give you discounts on grocery store products. That said, not all of them are food related and include a lot of tissue paper, hair products, and microwavable dishes.
Cooks Tools
The site will save the dishes you have made, which you can edit yourself, and will present it to you in order of it's starred ranking.
Recipe Management
It is pretty much all user generated, which means formatting is terribly inconsistent. There is a rating system which allows users to start it, but doesn't make it clear why they rated it the way they did.