Storyville: Design
03 Scenario Two
Bob Takes a Tour
Bob is a San Diego native who downloaded Storyville before leaving for his current road trip. He drives to San Francisco and arrives at his hotel in Japantown in the early afternoon. He's tired from the drive and wants to do something leisurely for the first day of his trip, so he wants to find a short walking tour that he can complete before dinner. He pulls up the Storyville app and taps the "Take a Tour" button.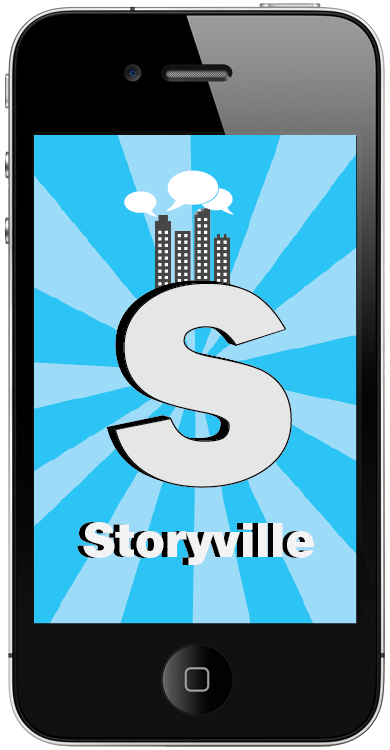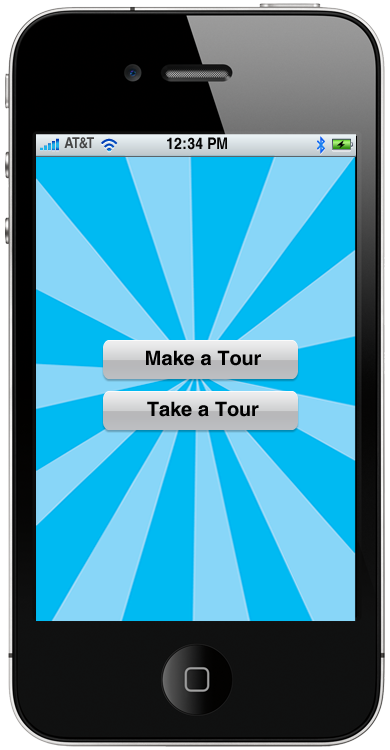 Storyville pulls up a list of nearby tours. Bob scans the list and finds a walking route through Japantown that sounds nice, created by a local resident named Miko.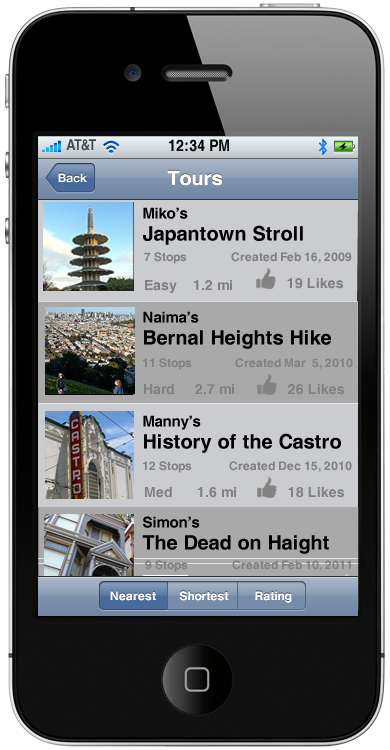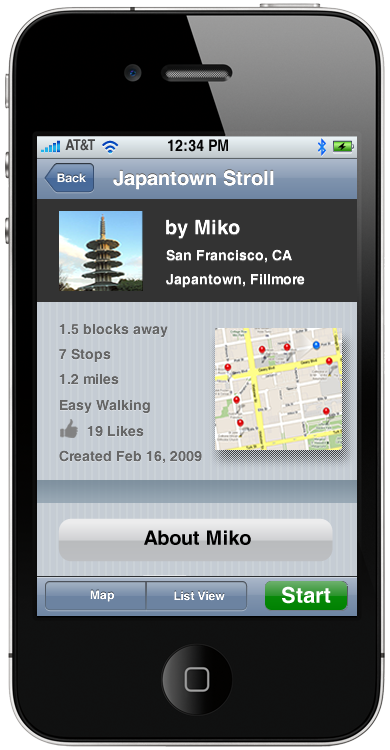 Bob can learn a little bit about Miko by looking at her profile. He can also get an overview of the tour by switching between a map view and a list view of the tour locations.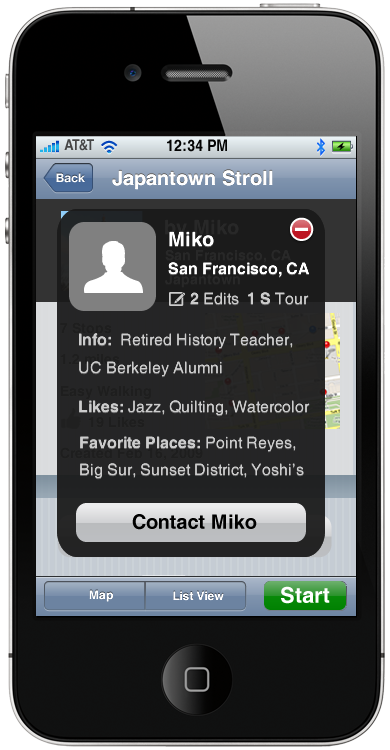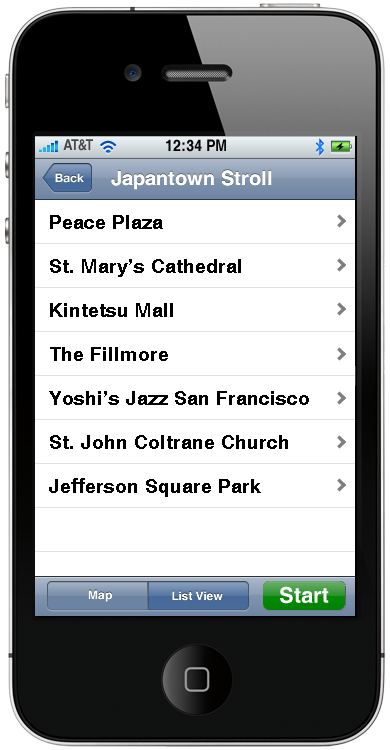 Bob decides to take Miko's tour, so he taps "Start". Storyville provides him with a map that shows him how to get from his hotel to the first location on the tour: a long-standing Japanese restaurant. The map provides step-by-step directions for how to get to the restaurant, just like Google Maps. Bob walks to the restaurant.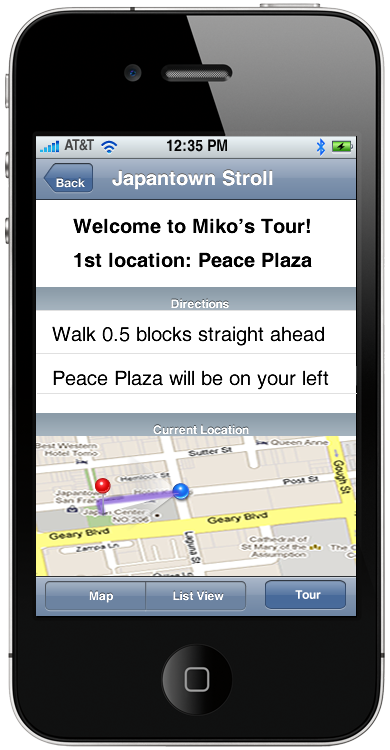 Once Bob is near the restaurant, Storyville alerts him that he's near his first location and displays a button to play Miko's story. Bob puts on his headphones and taps the button. The app pulls up a location detail screen with an audio player and Miko's story begins playing.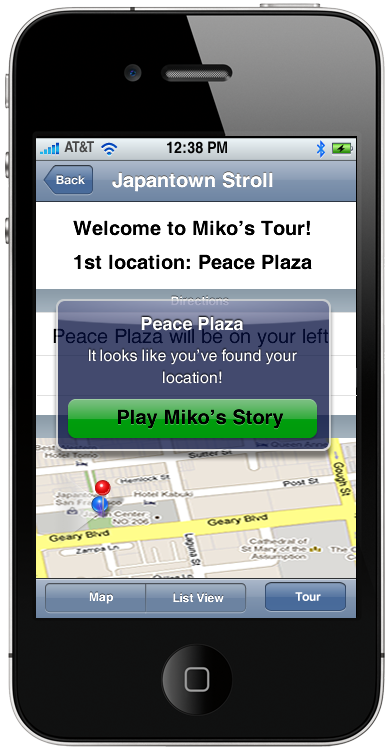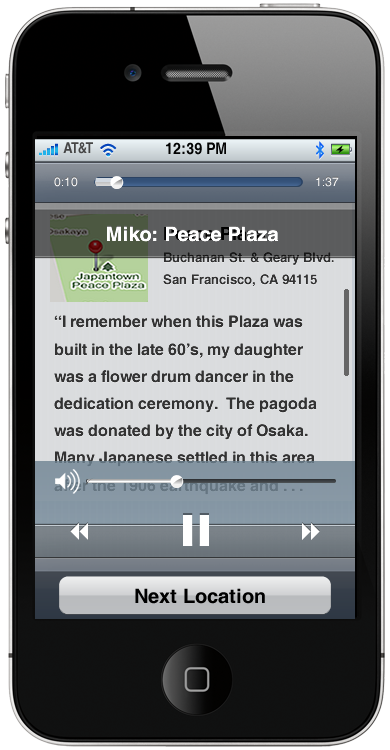 Miko tells a story about how the restaurant was opened 40 years ago by her friend, who collected the best Japanese recipes from all of her friends and relatives and used them to start her business.
After Miko's clip is done playing, Bob taps the "Next location" button. He continues to follow directions to the next location: Kintetsu Mall.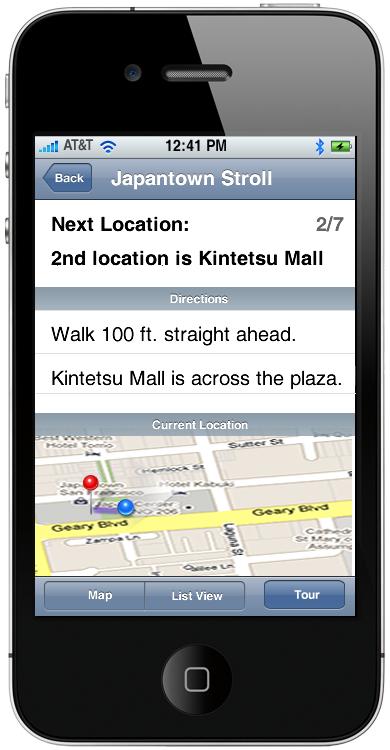 Again, the app prompts Bob to open the detail screen, where he can play a clip. Miko tells a story about friends of hers who have sold artwork and ceramics in the mall since the 1980's.
Bob continues to follow the tour for about another half hour. After listening to the last story on the tour, Bob taps the "Finish tour" button.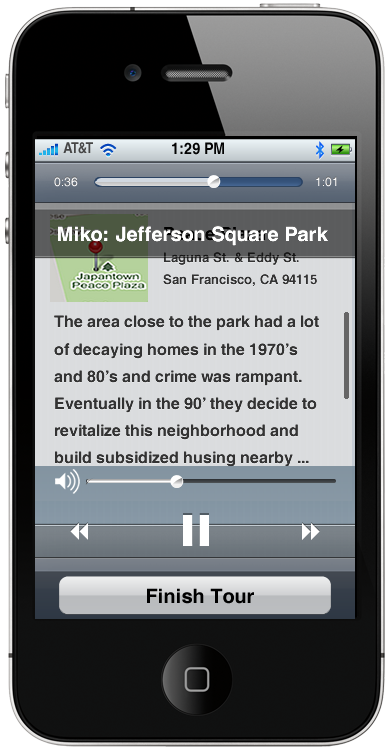 Storyville confirms that Bob has finished the tour. The confirmation screen has a "Like" button that Bob can use to recommend the tour to other users. Bob really enjoyed learning about the history of Japantown from a local resident, so he taps the "Like" button.