Research
To inform our design process, we completed research in three major areas: Directed Storytelling, Competitive Analysis, and Brick and Mortar Observations. From the research, we gathered a handful of insights:
Shopper appreciate personalized help when appropriate or in unfamiliar territory, like at Victoria's Secret
Good service is the differentiating factor
Browsing can be pleasurable, especially for women
faceted searches are helpful when there is a purchase in mind
Shoppers like "a little something extra" like rewards or cash back
Directed Storytelling
We interviewed four young shoppers, three female and one male. We asked them to relate to us good and bad shopping stories. Shoppers find good service to be the differentiating factor in a sea of fashion goods. They want good deals, honest merchants, and rewards for shopping.

What made it so great was his knowledge of the store's inventory and items, even though they weren't displayed. I liked how I was able to tell him what I was looking for and he was able to help me.

I like Bing cash-back. If you look for stuff thru their shopping site, and click their links, you get a % of what you paid for the item back.

The first thing I look at when I go to a store is their sales or clearance rack.

The claims correspondence page doesn't give detail…it was hard to find…From then on, I never buy anything over $100 on e-bay ever again.
Competitive Analysis
For the competitive analysis, we looked at a variety of clothing retail websites. They included:
BananaRepublic.com
Gilt.com
VictoriasSecret.com,
Kmart.com.
BananaRepublic.com is under the same parent company as The Gap and Old Navy, but each website has an unique branding to cater to its intended audience. The shopping cart and browsing history are examples of personalization. It also showcases discount prices and fashion statements.
Gilt.com is one of the few members only sites out there that sell discounted designer clothing. Instead of using marketing material for each designer, Gilt.com makes great effort to re-photograph every single piece of product in order to create a unified look and feel. Because each sale typically lasts only 48 hours, a calendar at the bottom of the page showcases upcoming sales.
Just like its brick and mortar store, Kmart.com sells an array of economically priced goods. It has a carousel navigation with rotating advertisements. Beyond a faceted search, there aren't many unique personalization features.
VictoriasSecret.com sells women's lingerie primarily. It has several personalization attempts like helping the shopper find her correct bra size. Other personalization features are like those of BananaRepublic,com, such "we think you'll also love." recommendations.
Brick and Mortar Observations
We also completed observations at the two local establishments:
White House | Black Market
KMart.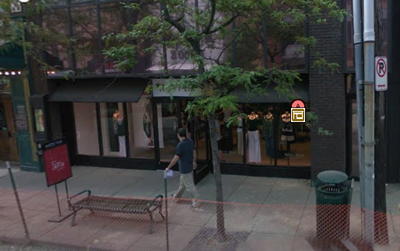 We found sales associates tried as much as possible to personalize experience at White House | Black Market as opposed to K-Mart where shoppers simply browsed the racks. Sales associates at the former asked shoppers questions like, "are you looking for some new spring trends?" The shoppers there looked at items themselves but took advantage of help from sales associates when needed.