Design
We divided our design process in four steps:
Concept Generation
Scenario Scripting
Low fidelity prototyping
Hi fidelity prototyping
Concept Generation
From synthesis we generated three design principles to follow during the design process. By using these principles in our design we could be assured that the solution we create would be relevant to the user.
Re-connect: enjoying meeting with family and friends after years of less contact
Sharing: telling stories of experience and enjoyment
Legacy: leaving memories behind for future generations to appreciate
Scenario Scripting
Next, the scenarios were revised, and they were described in the following scripts:
Script 1 - Discovering experience of Cousin's proposal to his wife at a restaurant

Receiving a push notification
Views footprint
Hit translate
Expands note (show expanded)

Script 2 - Sharing experience of Sledding & Cocoa

Paul goes with cousin and family to sledding hill. Opens Fooprints app
Splash screen fades to camera view
Tap to take pictures
Reveals annotation screen with keyboard.

Blinking cursor
1-line text field (like SMS)
Shows privacy

Clicks Done. returns screen to camera mode

Script 3 - ...son/daughter visiting family (following in their footsteps) come across these shared memories while on their own visit.

Open app (splashscreen)
Choose "Browse" (reveals list: Collected, Find Nearby, Family and Friends)
Choose "Family and Friends" (reveals list: See All, Dad, Mom, Sister, etc.)
Choose "Dad" (lists each footprint with person thumbnail, time lapsed, location)
Choose "2nd one down," shows Map - like googlemaps with Pins showing locations

Locations clickable with info like googlemaps
Low fidelity prototyping
Next, having the previous scripts we proceeded to draft paper-based wireframes. Here is a sample of them: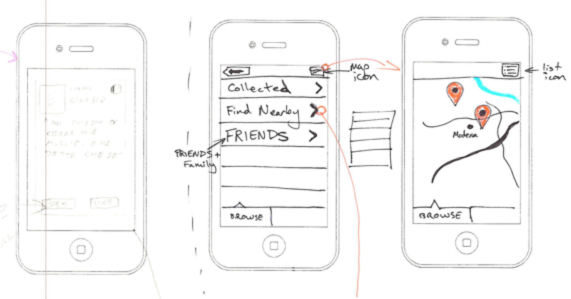 A complete set of the wireframes can be obtained here: lofi_wireframes.pdf
Hi fidelity prototyping
Based on the lo-fidelity wireframes we developed a detailed hi-fidelity semi-functional prototype, which can be seen in the solution section.