Operation Puma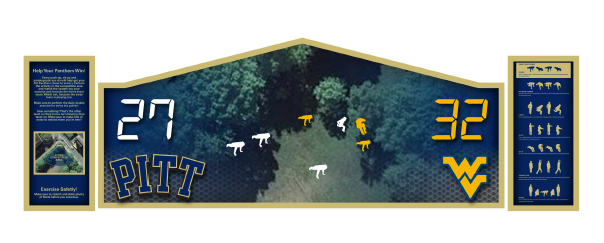 The Quad Challenge is an interactive public display that invites physical activity. It tracks different physical exercises, such as push-ups and jumping jacks, in the surrounding area. This means that it can be installed outside or inside. Many college campuses lack adequate exercising facilities, so this display provides a safe area where people can exercise.
When one of these displays is installed in one college campus and a different display installed in another college campus, the displays form a competition: which campus can do more exercise? Leveraging the competition between the Big East Conference colleges (football competitors), the Quad Challenge can encourage people to exercise for the greater goal of helping their college campus beat a rival.
We envision that this display could change every week with the Big East football schedule so that the rivalry between colleges is renewed every week. We demonstrate how this display can be installed in a historical landmark area to demonstrate how it can be installed virtually anywhere. The technology for the display, ground vibration sensors and a projection, is portable as well.
Team:
- Meg Davis
- Katy Linn
- Pat Purdy
- Iliana Radneva