Research - Field Observations
Overview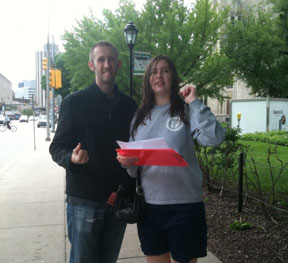 We followed a rigorous and multi-phased reseach, design, and iteration process. We united around the following themes:
Indirect motivation of better behaivior
Motivation of physical activity
Fun
After an initial discussion of possible design directions, we explored possible locations by conducting field observations of 3 different public spaces: Schenley Park, Cathedral of Learning, and the Forbes Street Bridge. We looked to validate preconceptions about the spaces and the people who use them. We also sought to discover the idiosyncrasies that could be leveraged in our final design.
01 Schenley Plaza
We observed Schenley Plaza during a typical lunch on a sunny weekday afternoon.
Almost everyone met or came with at least 1 other person. Except for one quiet bench area, the plaza was filled with conversation and laughter.
The crowd was heavily anchored to the food vendors. Many struggled to find tables. The grass lawn was very crowded near the food, but grew more and more sparsly populated away from the food. The one empty table was the farthest away from the food vendors.
A strict rule prohibiting sports and pets greatly affected the atmosphere. The large grass lawn was used soley for sunbathing, rather than active fun or games. We saw only 2 runners, an unrepresentatively low sample for a public space in Pittsburgh.
We concluded that this was a good location for a display facilitating social interaction, but it was unlikely that the Schenley Plaza popluation would be accomodating to the promotion of physical activity.
02 Cathedral of Learning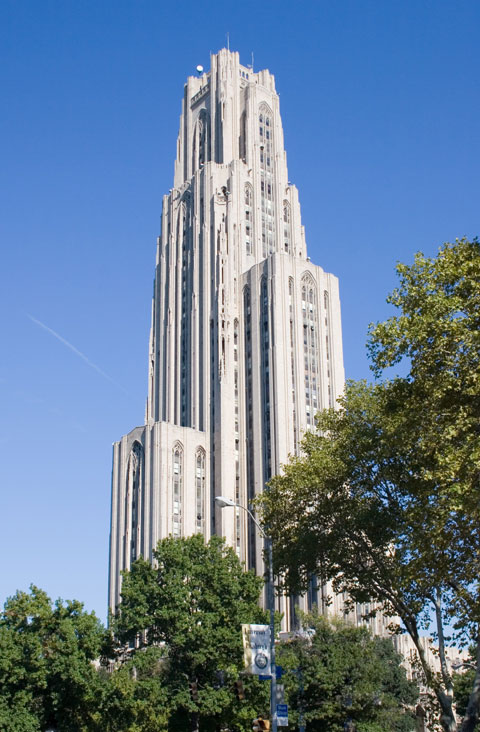 We went to the Cathedral of Learning on a sunny weekday afternoon.
Because Schenley Plaza strictly prohibits sports and pets, the courtyard next to the Cathedral of Learning is the ideal location for throwing around a frisbee or football.
University of Pittsburgh students accounted for the majority of the crowd. Because of the nature of their highly urban campus, there are few patches of green for them to enjoy. This area serves as a passing and gathering space between and after classes, much like a quad on a less urban campus.
University of Pittsburgh students generally have access to only one gym which was described as small, crowded, and poorly equipped. Therefore, the Cathedral of Learning becomes a great alternative as a place to support physical activity.
We liked this location due to its proclivity to support the themes we were interested in: fun and the promotion of physical activity. Many already utilize the space for physical activity, but there is a lot of opportunity to pull in passersby and others who use the park in other ways.
03 Forbes Street Bridge

We observed the Forbes Street Bridge in the afternoon during a passing time for Carnegie Mellon University.
There is a space for pedestrians on both sides of the bridge, but the side closer to campus is much more crowded. We hypothosize that this is because the nearby intersection allows bi-directional crossing, so pedestrians cross over to the campus side of the street early to save time.
Heavy congestion impedes traffic flow. Passing is difficult so traffic only moves as fast as the slowest walkers. This is aggitating for anyone who is late for a class or meeting, or anyone who is otherwise in a hurry.
We saw 2 groups of runners attempt to navigate the bridge. Neither set was able to keep pace while they passed over.
We chose this location to explore options to motivate changes in people's behaivior without them knowing it. We wanted to find a way to facilitate better traffic flow accross the bridge.