Meet Rachel Wagner...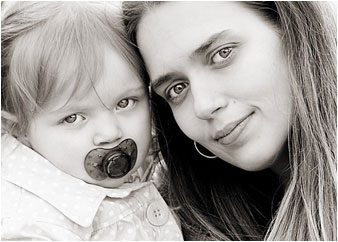 Age: 37 Profession: Lawyer Martial Status: Divorced
Single mother of toddler (Lily)
Relies heavily on family for babysitting
Spends weekend making up lost time with Lily
Always on the move
No time for herself
Uses her iPhone as an organizer/camera
A little more about Rachael...
Rachael Wagner is a 37 year old lawyer in downtown New York. She is a single mother with a baby girl, Lily, who just turned three in December. Last year, immediately after her divorce, Rachael moved to Long Island, NY to be closer to her parents. Rachel uses both a day care, and her family, to help her out with Lily during the weekdays.
Rachael's desk, covered in paperwork , has a picture of Lily from her first birthday which she has been meaning to update for the longest time. She typically orders lunch from the deli downstairs, and eats at her desk if she has time. She is often running back and forth from court, or client meetings, and relies on her iPhone to keep her organized.
After work, Rachael picks Lily up at her parents house, and will try to read her a bed time story if Lily is still awake when they get home. On the weekends she spends her time taking her daughter to the park or play dates with other friends. She often uses her blackberry's camera to take pictures of Lily doing silly things.