Rachael wakes up...
NOTE: The original mock ups for this scenario were created for the Blackberry storm. They were later translated to the iPhone in the Wireframe phase of this project.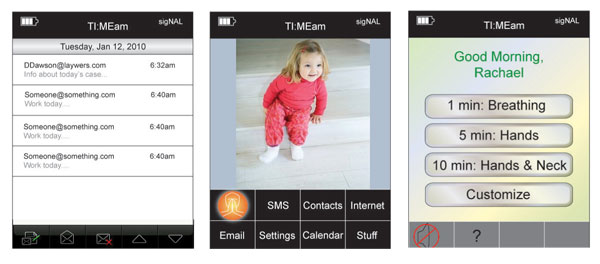 After waking up and taking Lily to her parent's house, Rachael runs to catch the 7:39 train to the city. She settles down in the third car, and takes out her phone to read through work emails. After 15 minutes, she is caught up and returns to her home screen. Due to her physical inactivity and the time of day, the phone assumes that she is on the train. It prompts her to tap on the Serenity icon that is glowing on her main screen. When she enters the application, she is asked what activity she wants to start. All activites are named after the duration and part of the body the activity works on.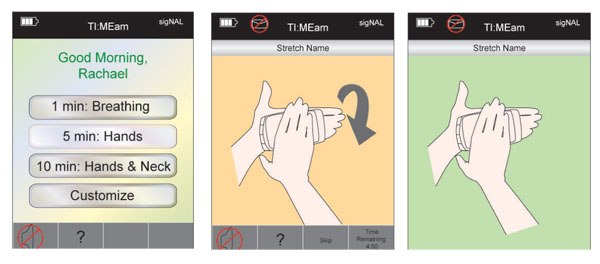 Rachael chooses the five minute exercise realizing that she only has so much time left on the train. She ensures that the narration is turned off as she has forgotten her headphones today. She enters the first stretch in the activity, and notices that her email alert will be turned off for the duration of the activity. The next screen indicates how the stretch should be completed. As Rachael conducts the stretch, the background color changes from neutral to green indicating she has completed the stretch correctly. She feels a buzz that alerts her when she has completed a stretch.
Iterations...
After the first round of critques with peers, the team decided to make the following iterations:
Activity names should be changed to be more human centered
Activities should be customizable
Current feedback to show implementation of stretches needs to be more clear
Icons need to be more indicative of use