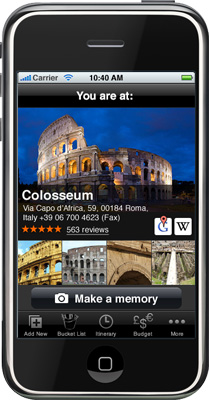 What if there was a way to check off your bucket list, but let someone else fill in the gaps, all the while keeping your interests, location, and budget in mind?
The Bucket App is a smart service and mobile application that helps recent retirees check items off their bucket list while taking the pain out of planning a complex daily itinerary.
By intelligently and dynamically building your daily itinerary based on your location, budget, and interests, the Bucket App takes the anxiety out international travel.
Simply tell the Bucket App which sites are "must-see" bucket items and the application will do the rest, guiding you along the way and helping you make memories that will last a lifetme.