Wireframes
Rough Sketches
Purpose
Wireframes are iteration stage of the design for us to figure out the design before we actually start to finalize it.
The Ground Display
The ground display is used to inform bus riders where to stand when waiting for buses. A lot of times two or three buses come at the same time, and bus riders are confused as to where to stand. They have to move to wherever the buses stop. The ground display informs both the bus riders and the bus drivers and bring the both group together to one place. It is projected from the bus shelter and it shows two buses with their corresponding lengths at a time. Because the queue of the buses can change based on the traffic, the system project the location only when the buses are one or two blocks away which, then, is accurate to determine where the bus is going to stop.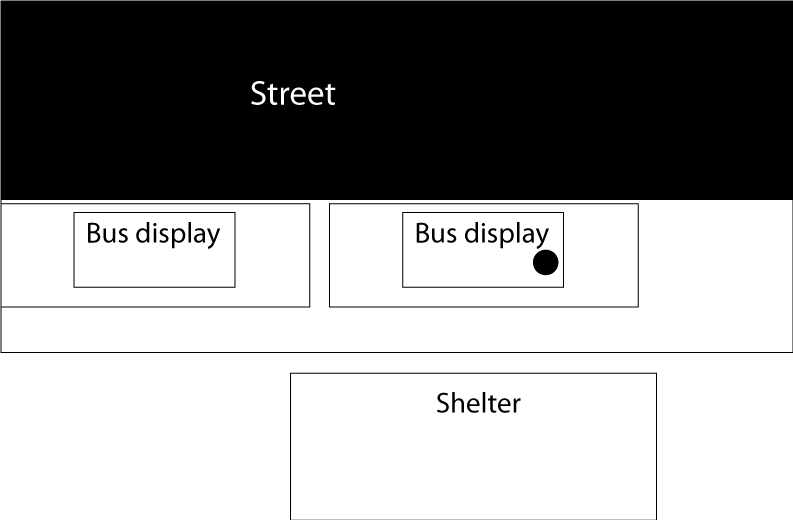 The Side Display
The side display shows the summary of all the bus information. It is divided into three sections. The top section notifies the bus drivers when there is at least one bus rider waiting around the bus shelter. The middle section shows the approaching buses sorted by the estimated arrival time. In the bottom display, it shows all the information about the buses that stop at the bus stop. It shows two buses for each bus routes because there are times when the same buses come at the same time and the first one is full. It basically displays the estimated arrival time for all the buses and their availability. Buses are unavailable when they are full. It can only be available again when people get off the bus.
The Map Display
The map display shows all the bus stops after the current bus stop. Bus riders can specify where they are going, and the bus routes that go through the specified destination is highlighted and the bus number and the estimated arrival time to the destination is shown on the side. The system show the estimated arrival time to the destination rather than to the current bus stop, because even though the bus arrives at the current stop first, it might take longer to get to the destination. It is bus riders best interest to know how to get to their destination fastest.
The Map Display When Two Users Are Using
The display is pretty big, and many bus riders might want to use the main display at the same time. However, the system cannot work so well with multiple users because there cannot be multiple destinations. The system recognizes the faces of the people and their proximity to the display and when there are multiple people standing on the display on the opposite side, the display is split up to two sections for two users to use it at the same time.