Home

Research

Synthesis

Design

Solution
Summary
Continuum is a mobile application to enhance one's exploration of Allegheny Cemetery. At the entrance to the cemetery is a serene display explaining to an interested visitor what Continuum does and how they can load it onto their phone.
Visitors use Continuum to connect with the history of Pittsburgh and the lives of its deceased residents.
Team
Turadg Aleahmad
Noah Fishel
Amy Lew
Anna Ostberg
Jan Zheng
Direction Observation
To begin our user research, we visited three cemeteries in Pittsburgh.
Smithfield
Smithfield is more like a public park. Neighbors use it for recreation and dog walking. There are no recent graves.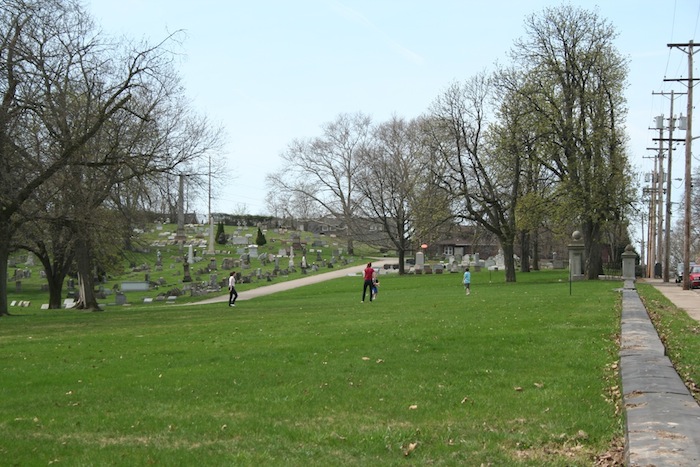 Homewood
Homewood has a gate and posted hours. Many of the graves are recent.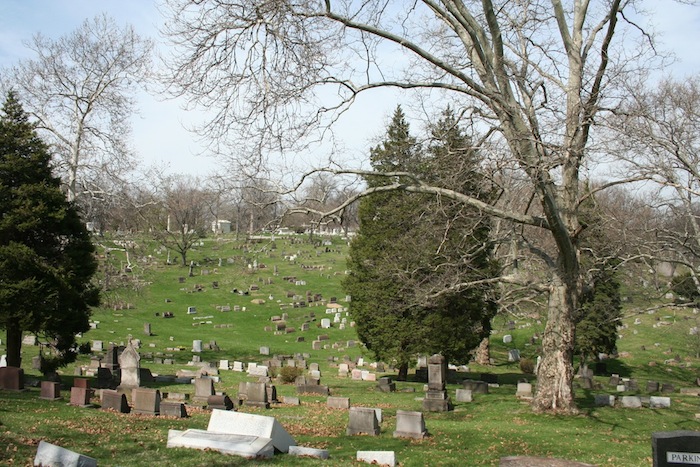 Allegheny
Allegheny is very large and has a gate that locks at night. Many graves are recent, but many more are quite historic.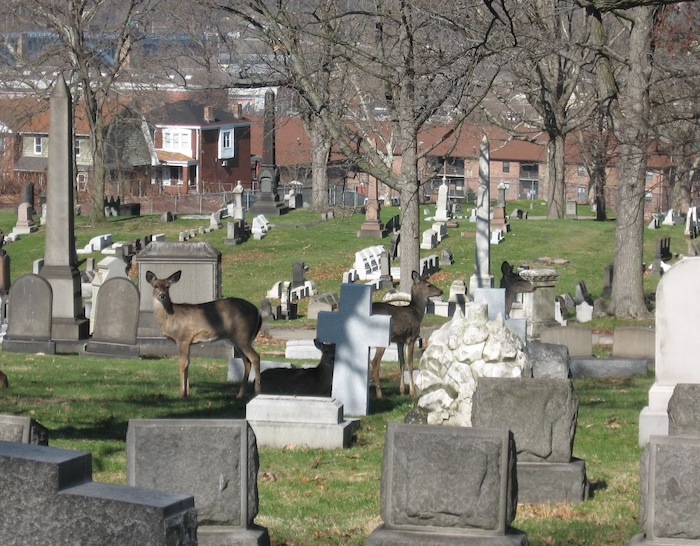 Onsite Interviews
We interviewed several visitors to the cemeteries. Below are some summaries.
Smithfield: Woman walking her small dog
Middle aged, unmarried. She lives a couple blocks away. Cemetery is cleaner than the other direction. She walks through the cemetery sometimes as a shortcut but thinks they don't want you to. Would walk her dog in Homewood except no dogs allowed.
Woman walking her large dog
Middle aged, mother. Walks her dog twice a day and runs sometimes too. Said she mostly sees people walking their dogs. Kids play on the open grass parts and that's nice. Sometimes teenagers go up in the more secluded corners. Once a month or so there's graffiti or beer bottles.
More of a park. No new people being buried; most recent are 1950 so there's not many mourners. The flowers? Probably left by the maintenance crew, so many similar ones.
Two moms with two sons
One woman visiting from CA, the other lives nearby. Visiting the site of their deceased mother. Tending to the garden they planted around it. (noticed later 4 shiny tokens left) Their mother designed the spot, a bench overlooking the Angels feature below. She and husband would come sit on the bench together. The local woman comes about once a month, rain or snow.
Young woman with stroller
Her father passed 2 days ago. She grew up nearby and comes through all the time. As a teenager would drink with friends. Afraid of the Faceless Man who was tragically burned and haunts the cemetery. Comes for the solitude. Doesn't want to be made aware of other visitors. Friendly but each person has their own visit. See that couple over there walking. Interested in the museum? From here, so probably knows it all. What about history? Yes, definitely. This place is very historic. Fricks, Heinz, etc. Stories interesting. People bike and walk. It's beautiful. Quiet.
Balance
From the interviews we learned that people use cemeteries in a variety of ways. The norms were somewhat different in each cemetery and we didn't want to upset them. Thus our project to "activate a public space" had to not change the space. That ruled out embedding much technology or signage, or drawing many new people into the space.
To achieve this, we decided to focus on people who already come to the cemetery and we chose Allegheny Cemetery because it is large enough that very old graves are remote from ones at which people mourn.
Key Concepts
From the interviews and observations, we settled on these key concepts:
Solitude
Reflection
Mourning
Silence
Peace
History
Contemplation
Ideation
With our key concepts in mind, we brainstormed 20 ideas with sketches and then narrowed them down the most promising five:
Let mourners leave physical or virtual tokens
Annotation of sites
Augmented reality of history
Giving or providing directions
Passage through time
Design Space
To illustrate how are best ideas were fitting together, we mapped out the design dimensions and plotted each idea on it.
success: binary win, partial success, no explicit success
guidance: full map, do next, free
learn: history, stories, space
size: group, pair, individual
users add to the system: yes, no
people interaction: competitive, collaborative, none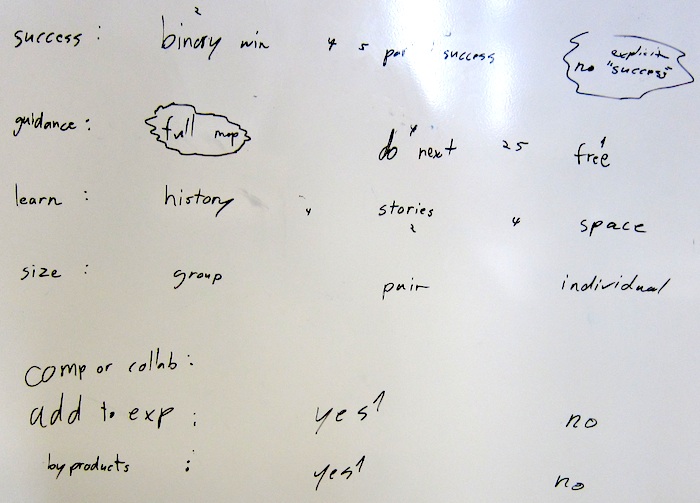 Speed Dating
We used the Speed Dating method of Needs Validation to verify that these needs expressed in our designs were valid:
connect with lives of deceased
game-like exploration
creative expression
learn about history
discover history
The visitors we encountered were most interested in connecting with the lives of the deceased and learning about history through their stories. They disliked game-like elements, one saying, "it shouldn't be an amusement park". They also had a distaste for didactic elements or incentives to participate. "I resent something trying to create artificial interest. If I'm here I'm already interested." Another added, "I could see it being useful for a school field trip, where they haven't chosen to come and don't know how interesting it is." We decided to design for adult visitors who come to connect with history.
Navigational Flow
Before designing the screens, we sketched the flow.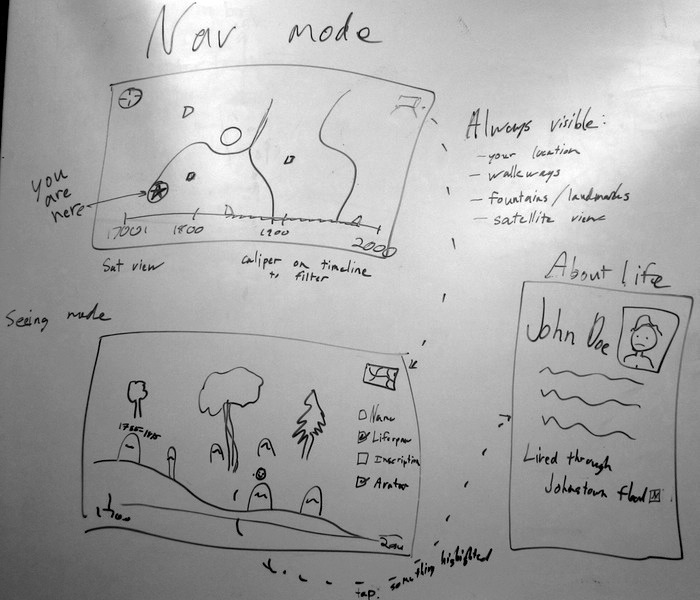 Screenshots
Below are examples of key screens from the application.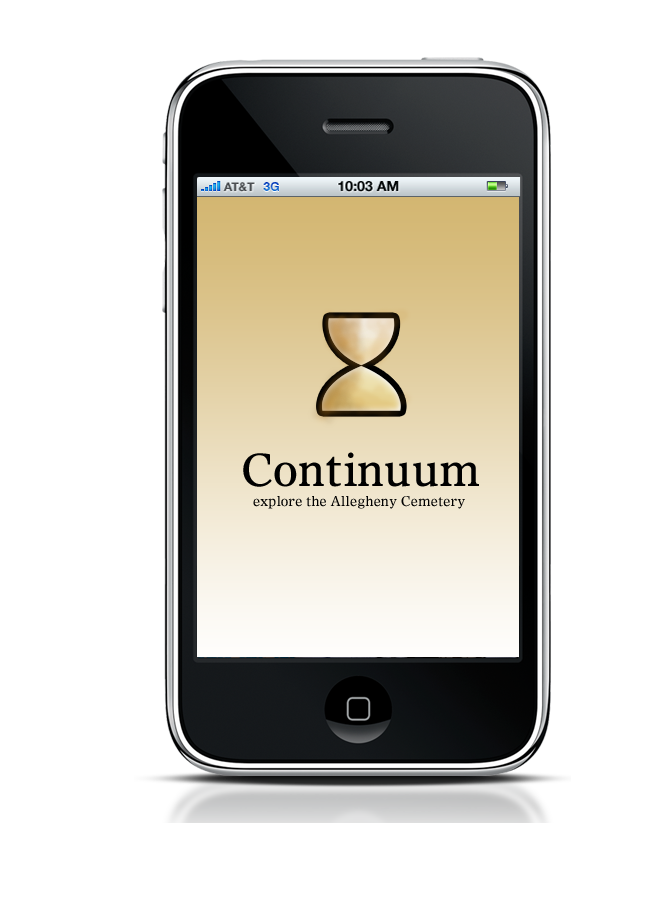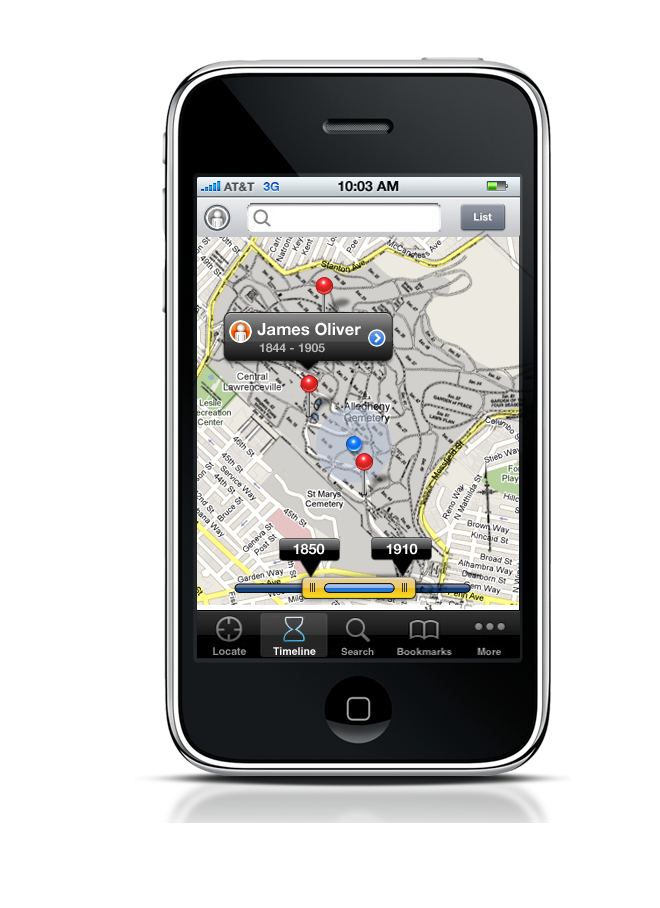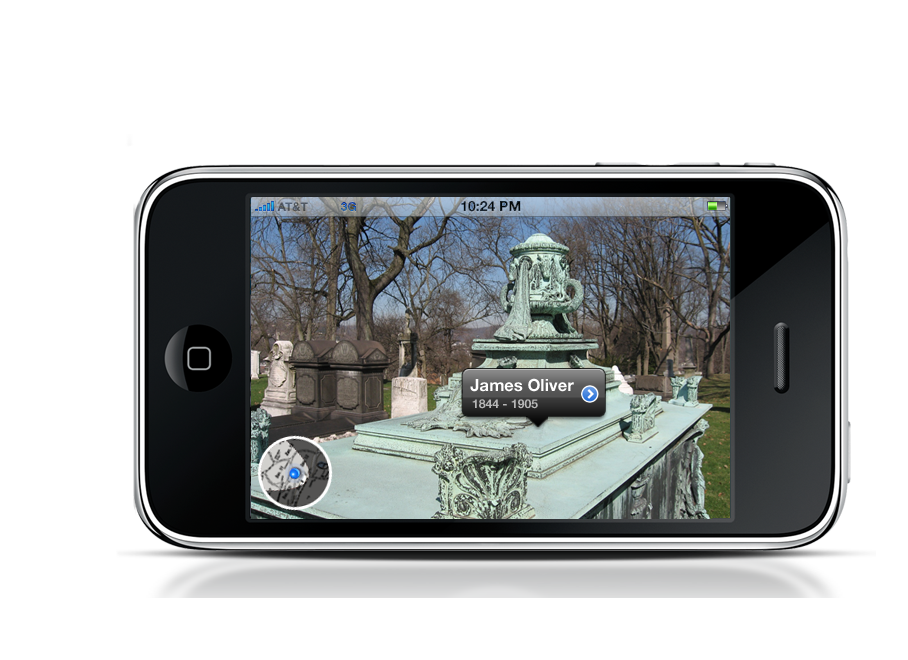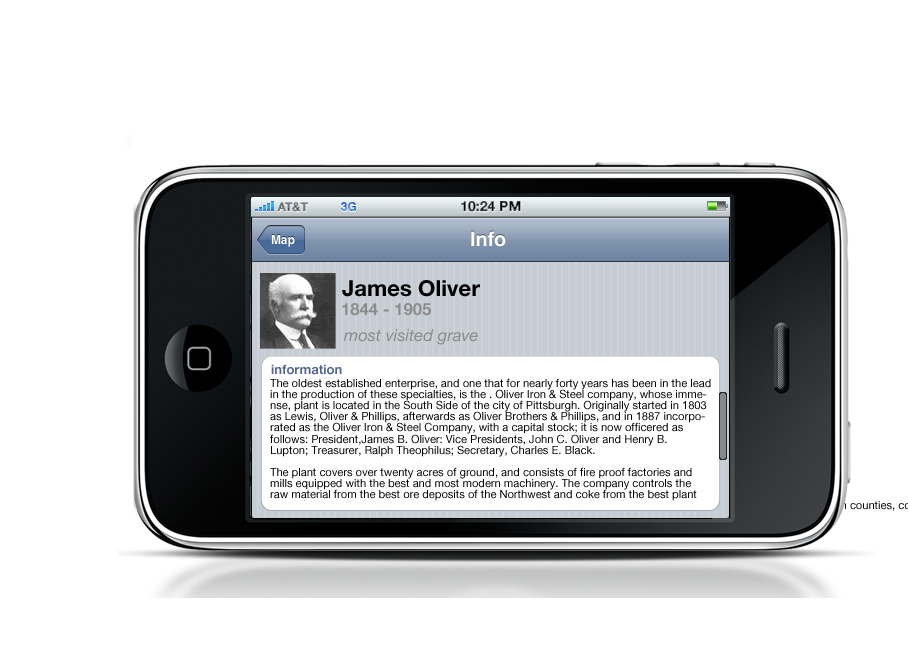 Video Sketch