! FIX***********
<! FIX***********
<! FIX***********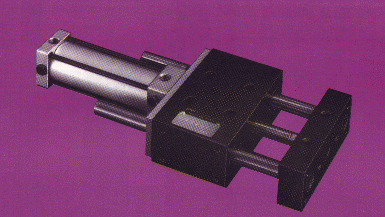 Implementation of RISC Workcell Tools
---
A large portion of the industrial manufacturing labor force is devoted to assembly operations. We wish to apply the paradigm of RISC (Reduced Intricacy in Sensing and Control) robotics to this field. RISC robotics is an attempt to fuse automation and robotics technologies. The main idea of RISC robotics is to use only a small set of simple, inexpensive, and accurate primitive tools. These simple tools can then be easily interchanged and/or combined to perform complex manufacturing tasks.
Previous work has already led to the developed a fast, high precision (i.e. 25 microns), self-calibrating peg-in-hole insertion strategy using several very simple, inexpensive, and accurate optical sensors.
Current work is in the development of new RISC tools in the workcell. We hope to provide a minimal set of tools necessary for a benchmark assembly of a model airplane motor.
Some of the simple RISC tools currently being developed are:
Optical Distance Sensor

Parts presentation is the major problem in automated assembly. Current RISC sensors have been successful at identifying and localizing parts being presented on a conveyor belt. However, for flat parts where part thickness is an important part of the identification or localization process, sensors must be able to obtain accurate distance information. height-sensitive parts

Fixturing Vise

A multi-purpose vise for fixturing sub-assemblies is a necessary part of any workcell.

Fastener Tool

Parts mating is dominated by peg-in-hole and screwing operations. Our general purpose fastener tool will perform the various screwing operations.

Conveyor Belt

In order to provide us with an actual assembly workcell we have added a conveyor belt to exploit our RISC sensors and algorithms for part localization and identification.
---
Eric Paulos (paulos@robotics.eecs.berkeley.edu) / 20 Apr 1994